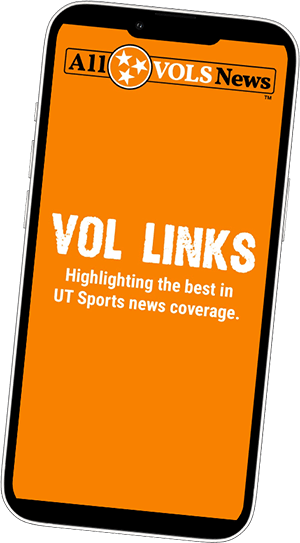 This week we mourned the passing of a Tennessee Legend, Gus Manning. Below we've got links to recollections by Coach Barnes, Peyton Manning, and more.
In sports, we started this week in the wake of that 1-2 gut punch of last second losses to Vanderbilt and Missouri. Fortunately, Wednesday night's outing versus #1 Alabama saw the Vols returning to life. Add to that VFL Trey Smith's winning appearance in the Super Bowl as well as some off-season football talk, and we're able to offer you a nice roundup of links in this 5th edition of VOL Links.
---
History repeats, Vol lose late
02/12/2023 via KnoxTNToday.com: Marvin West
The wife surprised our girls and me with tickets to Saturday evening's heartbreaker last-second loss to Missouri. Fortunately, we were able to enjoy our evening together despite the disappointing outcome. Reading Marvin West's analysis along with his excellent selection of pertinent quotes also helped us to put things in the proper perspective.
VFL Trey Smith, A Super Bowl LVII Champion
02/13/2023 via UTSports.com
Considering all Trey Smith has been through, we were delighted to celebrate him as a Super Bowl LVII Champion.
Tennessee Legend Gus Manning Passes Away at 99 Years Old
02/13/2023 via Rocky Top Insider
On Monday news broke that Gus Manning had passed away. Ric Butler at Rocky Top Insider provides a look back at a life well-lived complete with photos and video.
Gus Manning gone at 99
02/13/2023 via KnoxTNToday.com: Marvin West
Marvin West puts his talent to work honoring a legend.
Tennessee's Rick Barnes recounts friendship with late Gus Manning
02/13/2023 via VolReport
Noah Taylor at VolReport checks in with Coach Barnes's remembrances of Gus Manning.
Peyton Manning, Rick Barnes React to Gus Manning's Passing
02/14/2023 via Rocky Top Insider
Tennessee Football and Basketball Combine to Create Impressive Stat
02/15/2023 via Rocky Top Insider
Jack Foster clues us in on quite the combined achievement by the football and basketball teams.
Toppling Tide was mostly effort, extra effort
02/16/2023 via KnoxTNToday.com: Marvin West
Effort, effort, effort…Marvin West shows us how the Vols achieved victory on the hardwood against the #1 ranked Crimson Tide.
Creating the perfect matchups for each team when Texas, Oklahoma join in 2024 season
02/16/2023 via CBSSports.com
Chip Patterson chimes in with his take on how the SEC should build its football schedules once Texas and Oklahoma join the league.
Finally, Tennessee Baseball reminds us that baseball season is here: