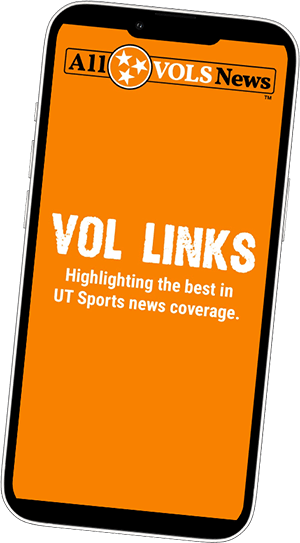 This week's VOL Links feature insights into the world of NIL contracts given the realities of the transfer portal. In light of Tom Brady's "re-retirement", Dave Hooker shares his thoughts on why Peyton Manning had a greater impact on the game. We get to join Josiah-Jordan James for a mic'd up practice. Then there's a great Joe Milton interview by Austin Price of Volquest. All these things, plus a couple more links for you to enjoy.
---
Collectives structure NIL contracts with protections for transfer portal
01/30/2023 via On3
We're watching this new world of NIL unfold in realtime. On3's Andy Wittry provides us with details on how NIL collectives like our own Spyre Sports Group are writing contracts in light of the present realities of the transfer portal and the rest of the college football landscape.
NFL Fans React to Hendon Hooker's Optimistic Report
01/31/2023 via Rocky Top Insider
Hendon Hooker is on the mend after suffering a torn ACL during the South Carolina game. Rocky Top Insider's Ric Butler shares reactions from NFL fans.
Watch Tennessee's Josiah-Jordan James Mic'd Up At Practice
01/31/2023 via Rocky Top Insider
Peek inside a Tennessee Basketball practice via a mic'd up Josiah-Jordan James.
Peyton Manning Had A Greater Impact On The Game Than Tom Brady
02/01/2023 via Off The Hook Sports
Of course our ears always perk up whenever someone shares a "hot take" about one of our favorite VFLs, but we appreciated Dave Hooker's insightful analysis in this one and came away from it having learned a bit as well as appreciating Peyton Manning's talents a bit more.
Cooper Mays Talks About Former Teammate Trey Smith Playing In The Super Bowl
02/02/2023 via Off The Hook Sports
Cooper Mays shares his insights on Trey Smith as he prepares to play in the Super Bowl.
Rocky Top Spotlight: Jordan Crooks
02/03/2023 via UTSports.com
Here's a profile on UT Swimmer Jordan Crooks. Read to find out which five UT records he broke as a freshman during the 2021-22 season.
Joe Milton Interview with Vol Club Confidential via Volquest
02/03/2023 via All Vols News
In partnership with Spyre Sports Group and their Volunteer Club, here's Austin Price of Volquest with an in-depth interview with Joe Milton.