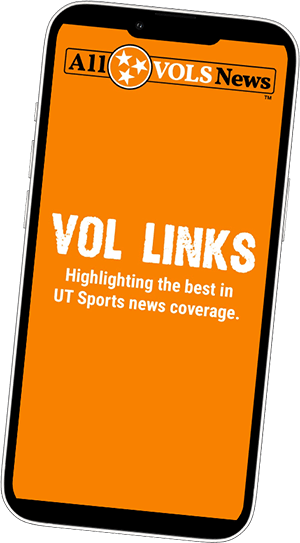 This week's news cycle began with everyone gushing about Nico Iamaleava's showing in the Polynesian Bowl. Then there was Josh Heupel's contract extension making him a $9 million man. Next we followed the talk radio discussion comparing this year's Tennessee Men's basketball team with previous years. Finally there was more commentary on Heupel's contract along with stats showing how good the basketball team is at blowing out *select* opponents (i.e. we'll see if that holds during this next stretch of games starting with Texas on Saturday).
---
Tennessee Football: Nico Iamaleava Showed Every Way He's Elite As Polynesian Bowl MVP
01/22/2023 via Off The Hook Sports
We can't get enough of Nico. Can you? Caleb Calhoun of Off The Hook Sports chimes in with his assessment of Iamaleava in the Polynesian Bowl.
Tennessee Football Could Cash In On Florida's NIL Incompetence
01/23/2023 via Off The Hook Sports
The business of NIL makes for popcorn-worthy stories as schools are learning the ins-and-outs in realtime. Dave Hooker gets us up-to-speed on Florida football's recent NIL debacle.
Enter the Mind Palace: 2022-23 Tennessee vs. All The Other Tennessees
01/24/2023 via Stats By Will
Earlier this week, the talk on Knoxville sports radio was about this year's Basketball Vols versus other years. In his post, Will Warren takes us on a deep dive looking at the stats to make the case that this year's edition may be the best team we've seen in twenty or more years.
Tennessee Basketball One Of Nation's Best At Creating 'Kill Shot' Runs
01/24/2023 via Rocky Top Insider
This year's Basketball Vols are eye-popping when it comes to their defensive numbers. But what about on offense? Ryan Schumpert at Rocky Top Insider shares one of the team's elite offensive stats.
VOL Links – Heupel's $9 Million Contract
01/24/2023 via AllVolsNews.com
With Heupel's new contract taking over the Tuesday afternoon news cycle, yours truly was inspired to do a VOL Links Special Edition highlighting all the coverage.
What YouTube Commenters Are Saying About Nico Iamaleava Vs. Joe Milton III
01/25/2023 via Off The Hook Sports
Dave Hooker dives into his own comment section to highlight fan discussion regarding who will be the Vols starting quarterback next season.
The Most Important Number In Josh Heupel's New Contract
01/25/2023 via Off The Hook Sports
Any guesses as to what the most important number is in Heupel's new contract? Read Hooker's article to find out.
Another Vol foe goes low
01/26/2023 via KnoxTnToday.com
We've recently added the sports feed from KnoxTnToday.com to the site. Because they don't post as frequently, their stuff can get lost amidst the prolific output of everyone else we carry. For a classic sports writer's take on the Vols Wednesday night victory over Georgia, be sure to check out this piece by longtime Knoxville columnist Marvin West. It's a great mix of stats and commentary providing a unique perspective on the game.
"We want playing Tennessee to be a miserable experience."

Zakai Zeigler via Marvin West's Column
No. 4 Tennessee records 11th win by 20 or more points
01/26/2023 via VolsWire/USAToday
The next time Tennessee beats an opponent by 20 or more points, they'll set a new season record. (I'd love to see them do this in Lexington.)
Comparing Josh Heupel's Second Year With Vols To National Championship Coaches' Second Years At Their Respective Schools
01/26/2023 via Off The Hook Sports
Dave Hooker gives us a nice look back and comparison of other national championship coaches in their second years.
Josh Heupel is paid like one of the big boys, which means he has to recruit like them too
01/27/2023 via On3
Jesse Simonton at On3 asks us to consider what the SEC coaches with salaries ranked ahead of Heupel all have in common.
Looking Back On Who Was Proven Dead Wrong About The Josh Heupel Hire Two Years Later
01/27/2023 via Off The Hook Sports
👆Dave Hooker helping us with the receipts.